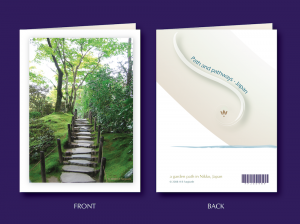 Limited edition note cards are available and can be purchased
individually or in sets of five.   



Series 1:    PATH and PATHWAYS – JAPAN
Each card has been designed and created to honor  some of the places
of stillness and beauty Henri has visited in Japan over the years.  



Series 2:   MINDS REACH…a series of Energy ALIVE affirmation cards
This is a collection of cards to inspire and remind us of our healing
ability and presence.       Each card features an insight from the 
Energy ALIVE material, placed on a background of original abstract
art.     There are twelve cards in this series.


The samples on this page are from both series.    For more
information about pricing, shipping costs, and card
availability, please use the CONTACT US  page on this site.