The new Energy ALIVE Newsletter is available.
Last year was an amazing year for Energy ALIVE.
The momentum continues for 2016, and on the next
few pages, I hope you will take a peek at what is unfolding. There are activities in three countries and all will have professional Japanese interpretation if needed. Enjoy!
2016年初めてのエナジーアライブ・ニュースレターです。
この流れは2016年も続きます。以下の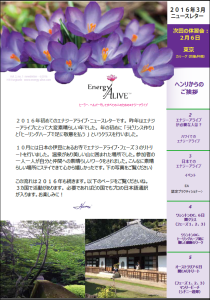 ページをご覧
くださいね。 3カ国で活動があります。 必要であればどの
国でもプロの日本語通訳 が入ります。お楽しみに!