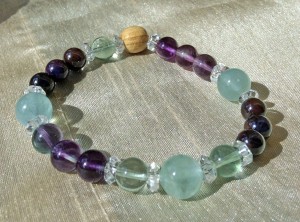 What a special energy these stones impart!    Nine 7 mm sugilite beads alternate with six
8 mm purple fluorite beads.  They alternate in groups of three.    All are flanked by
micro-faceted clear quartz and translucent green fluorite.   One Palo Santo wood bead
adds to the vibration.
この石にはスペシャルなエネルギーが授かっています!9つの直径7ミリのスギライト・
ビーズと6つの直径8ミリのパープル・フローライト・ビーズが交互にデザインされています。
3つのセットで交互に並んでいます。多面カット・クオーツと透明なグリーン・
フローライトが両側にあります。パロ・サントの木ビーズが波動を加えています。
Sugilite is known for emotional balancing.   This is not the bright purple sugilite but a
deeper more grounded version (still, all natural).  Purple fluorite alternates with the
sugilite, flanked by micro-facted quartz and green fluorite button beads.     Fluorite is
a clearing stone that can help us detox and clear those energies we no longer need.
Great when working on the computer, or when working with customers.   I love this
combinations of stones, especially when supported by sacred wood (in this case, Palo Santo).
スギライトは感情のバランスを調和してくれることで知られています。これは明るい色の
スギライトではなく、深いグラウンディング・バージョンです(全て自然の色です)。
紫色のフローライトとスギライトが3連で交互に配置され、多面カット・クオーツとグリーン・
フローライトのボタンビーズが両側でサポートしています。フローライトは浄化の
石であり私たちに不必要なエネルギーをデトックス&浄化することを助けてくれます。
パソコンでのお仕事や接客のお仕事の時に活躍してくれるでしょう。私はこの石の
コンビネーションが大好きです。特に聖なる木(この場合はパロ・サント)
にサポートされている時に。
Wear it in good health!!
健康維持のために使ってください!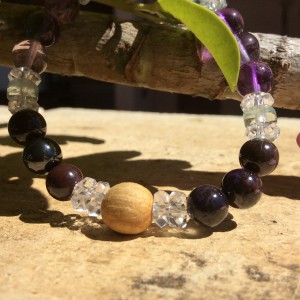 If you are interested in this bracelet please contact me directly.
Energy ALIVE students will receive a discount on the price listed below.
このブレスレットにご興味がある方は直接私にお問い合わせください。
エネジー・アライブの生徒さんには下記のお値段より割引を差し上げます。
$80.00 plus shipping.
$80.00 プラス送料